NIDAN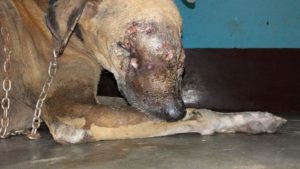 We were informed about a dog whose face, eyes, nose has all turned into a football like thing and who was trying to hide at local people house and garages.On being informed we went to rescue him asap but after searching for almost three hours he could not be traced.We gave our contact to local people and asked them to call us as soon as they see him next and after two days we finally got the call.The moment we got the call we rushed to the spot ans saw one of the most painful sights.A dog who facial portion was totally swollen up and full of blood an puss.He was unable to see anything and had very much difficulty in breathing.A very bad smell was coming from him and everybody was shooing him away wherever he was trying to seek refuge.We did not waste much time and picked him up.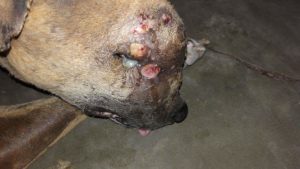 Once our veterinary doctor examined him,he gave a few blood tests and in the meantime his basic treatment started.The blood reports confirmed very fast spreading cancer with very low hemoglobin and abnormalities of liver function.Drips and his treatment started.It was a tug of war between life and death,he was extremely critical not at all eating or active.After almost a months treatment and care he was slightly stable and started eating properly.Another blood work was done and after the reports came doctors started his chemotherapy sessions along with other medications.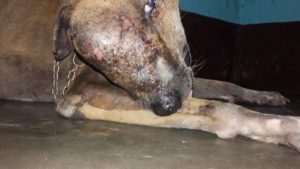 After almost three more months of treatment chemotherapy and regular doctor check ups,Nidan finally got completely cured and was returned back to his territory happy and pain-free.
Help us to save more kids like NIDAN..!!!!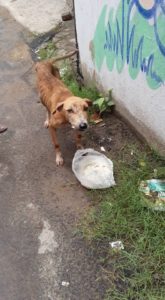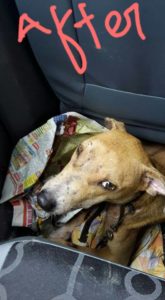 Contact ARC KOLKATA
—————————-
Address : 11/4, Jyotirmoy Nagar, Thakurpukur, Kolkata – 700 063.
Regd No : 160700034/2016
Email : arckolkata63@gmail.com
Call : (+91)7890-535353/838383
Web : www.arckolkata.org