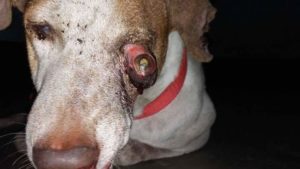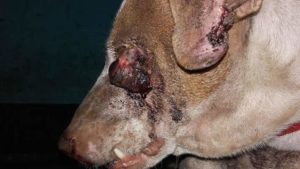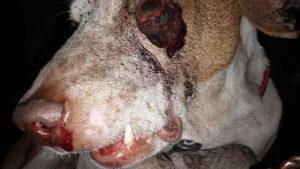 Avimanyu of mahavarata died as he could not see the way of coming out of the traps… This baby our AVIMANYU is also blind. Cannotsee, both eyes damaged. But we will try our best to hold his hand n take him out from darkness. Yes there is internal injury n bleeding from mouth…but he is a fighter still as docile n as gentle as he can be…thank u RiaBhattacharjee n her husband for dropping him to our shelter. Thanks to our vets who considering his condition, came very fast n treatment started ASAP.Very special n expensive meds are being used for fastest recovery. Operating the eyeball out is the last option.
Name: Avimanyu
Location: Newtown(kolkata)
Condition: severe accident, internalhaemorrhage
Total treatment cost : 10050 approx.
Transport : not applicable
Vet fees : 400 ( 8vet visits in 30days@50per visit)
X ray : 350 (forehead)
OT charges n surgery fees : 1500
Meds,injections n eye drop along with saline for eye n haemorrhage : 5900
Vaccine n deworming : 400(dhppi-L, anti-rabies n deworming)
Shelter charges : 1500 (@50 per day for 30days)
#update1: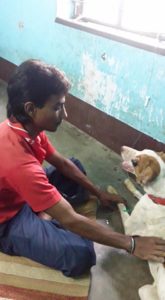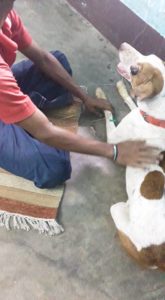 the other affected eye is much better…has opened properly…the much wounded eye is also little better… No bleeding is occurring. He is looking littlefresh. Saline is being given. But he had one piece of chicken today morning…life risk is still there though reduced a little as there was internal haemorrhage. After he stabilizes vets will decide whether eye will be operated or treated with meds only…
#update2 :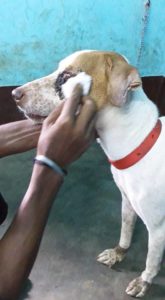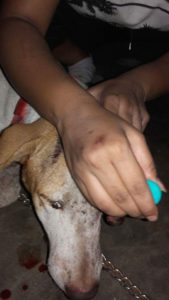 he has started eating which is a very good sign. But danger period is still not entirely over. The course of injection will be over in next 2days then vet will decide the next step whether OT will be done or new meds needed…we are really hoping for the best for him..
#update3 : vet saw him today n since he little more stable now OT is scheduled tomorrow the eye will be set and other requited things will be done. Some new eye drops n meds will also start from tomorrow for faster healing.
#update4: OTdone. Next 5days are danger to detect whether the OT is successful or not. There is a puss n little swelling n irritation too… Dressing is being done religiously. Saline is being given too…he has started taking food too
#update5 : he is quite fine but still there are two days of danger. Eatingand also saline being given; puss n swelling has reduced a lot. Dressing is being done rigorously.
#update6 : life risk has been minimised. Appetite has increased. Eye wound almost healed. But sad part is he won't b able to see. The other is has very slight vision. We are trying hard to repair. The severe blow resulted to both the eyes damage. Curse the one who caused this.
#update7 : o.t was done some days back then stitches were removed today. Yes eye has been saved. Our wonderful vet managed to save the organ instead of operating the organ out. But no vision is there. Tick repellent has been applied few days back but he is having anaemia. Iron injections havestarted. He is having food n other meds n is little better now.
#update8 : he is doing quite better now. The injured eye has healed very well still dressing is being done thoroughly. Now the eye that has lost vision due to severe blow of accident will try to be treated, if slight vision can b brought back. Appetite n other activities normal so deworming will be done soon.
#update9 : he is much better. Dewormed n vaccinated. Eye injury totally healed. We are trying to being back vision of the other eye with drops. He will be released soon n will stay at Ria's place.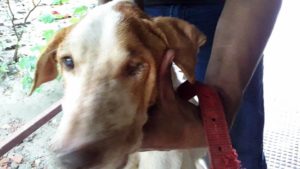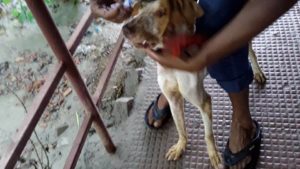 #Caseclosed
Contact ARC KOLKATA
—————————-
Address : 11/4, Jyotirmoy Nagar, Thakurpukur, Kolkata – 700 063.
Regd No : 160700034/2016
Email : arckolkata63@gmail.com
Call : (+91)7890-535353/838383
Web : www.arckolkata.org