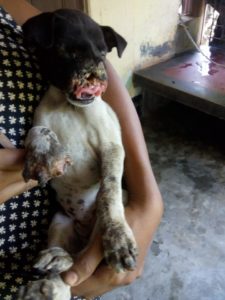 This tiny kid who has just taken birth has already suffered so much.She faced a severe accident ,a blow that was severe enough to break away her nasal bridge,her upper jaw is broken most parts missing,severe head injury,eye injury and one forelimb injured too which makes her limp.
One of the most horrible cases we have come across.She has been with us since last 2 3 days and is under constant observation.She can't eat anything orally only a few drops of lactogen is being fed by cotton just to keep her tongue moving.She is on drips at 6hours interval.Temperature is high 103.She is drooling and not active at all,in severe trauma.
All required Injections are being given,but as per the vets since it's a severe head injury she will need more time to get stable. Regular dressing is being done so that maggots don't form since the mouth injury is very delicate.
Once she is totally stable ot and other things will be decided but our primary objective is to lower her body temperature and stabilize her.
Treatment cost : 11,800
Transport :
Vet fees: 1200 (16vet visits @75per visit)
Medical requirements: 2400
Ot charges: 2200
Deworming vaccination:
Shelter charges : 6000 (for 60days @100per day)
u can send ur help here..
Animal rescue and care kolkata
Account no-197305000259
Ifsc-ICIC0001973
Branch-thakurpukur
Icici bank
Paytm 7890535353/7890838383
Pls inbox me after completeing..so that i can cnfrm u the receipt…thank u
😊
UPDATE -1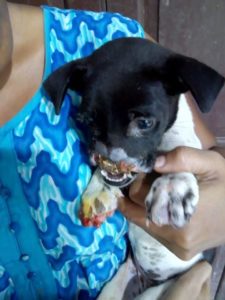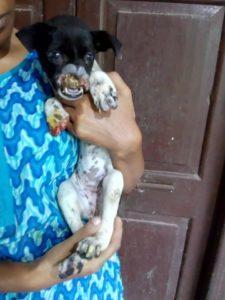 She is lil better ,temp has reduced to 102 to 101.5 from 103 but still she is inactive and drooling ,not out of Danger yet,drips in interval of 6 hours is still on but she has slowly started taking liquid food like soup cerelac etc herself though in very small qty.eye injury is better with drops.
Update-2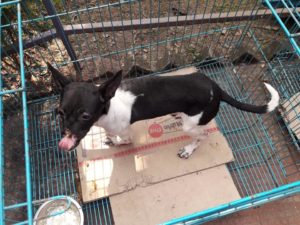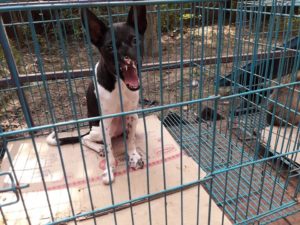 The Kid is Fully Recovered…
Final Update: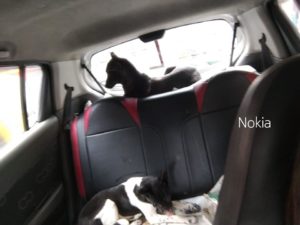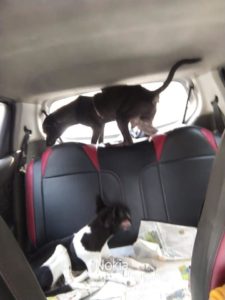 A very very wonderful and relieving news…
After a lot of appeals and posts finally #batty and #cleopatra got adopted..
We are really thankful to Sur Anjana Banerjee for giving them a happy life after long shelter stay..
Shelters are not at all for healthy kids,now they have got a loving home,life of freedom and new lovely friends..
Their adoption not only gave them a new life but also it gave the another dog a second chance of survival,a very critical accident victim could get admission because of this adoption today..
We are very very thankful to suranjana, damayanti and Romi Dasgupta for this…
We are very much thankful to each n everyone who helped and supported us for their treatment till now,without which nothing would have been possible…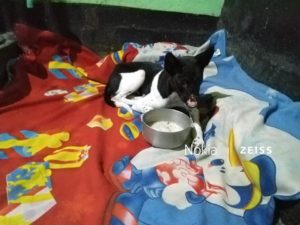 Contact ARC KOLKATA
—————————-
Address : 11/4, Jyotirmoy Nagar, Thakurpukur, Kolkata – 700 063.
Regd No : 160700034/2016
Email : arckolkata63@gmail.com
Call : (+91)7890-535353/838383
Web : www.arckolkata.org