Treatment of Focus
Focus is a victim of human abuse,someone has beaten him enough that his eye ball came out,in tremendous pain and agony still he is cooperating for treatment.There is fungal infection in his paws too.Sometimes it's bleeding from the eye too,though all Medicines being given.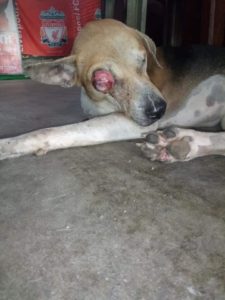 Severe pain is there so appetite not enough,drips given once,eye is being dressed,once he is stable ot date will be fixed.We have in these cases always set the eye ball as it's tremendous painful to cut out an important organ so the first try will be to set the eye only but he won't be able to see with it ever.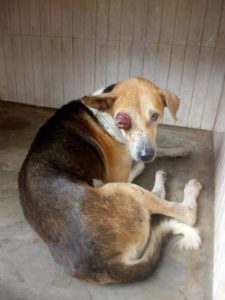 Treatment cost : 11000
Vet fees : 800 (16 vet visits in 2 month)
Ot charges and requirements of ot: 2000
Medicines : 2200
Shelter charges : 6000(100₹ per day for 2 month)
#Update-1 : apart from eye n leg injury there's severe worms problem,so that's being treated as well,loose motions n high temperature was there drips n other injections with dressing being continued to date not fixed yet.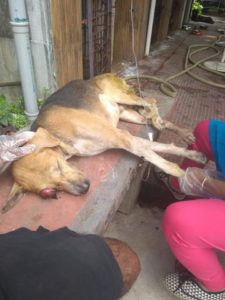 #update2:After stabilizing him deworming was done as he was suffering from severe worms problem too.after that OT has been done,for next 3 days he will be strictly under observation.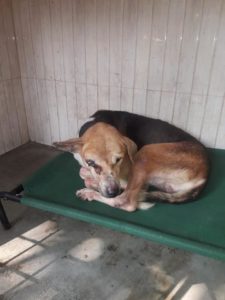 #update3 : focus is not much better,eye condition though better than before bit not fully recovered,there's severe bleeding from penis and swelling too.Trtmnt for that had also started.Both problem of eye n penis are being treated but it will take another 30 -45 days for full recovery.Worms issue is there but deworming can't be done now due to other health complications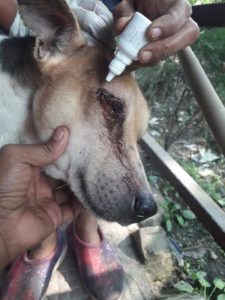 Contact ARC KOLKATA
—————————-
Address : 11/4, Jyotirmoy Nagar, Thakurpukur, Kolkata – 700 063.
Regd No : 160700034/2016
Email : arckolkata63@gmail.com
Call : (+91)7890-535353/838383
Web : www.arckolkata.org