Treatment Of Luchi
This dog was picked up by Ritesh Chakraborty and Shreyashi Chatterjee.she is having the worst of skin conditions n is extremely dehydrated n lil low body temperature.there are many maggot wounds at many parts too.blood oozing from several parts.eye infected.worms in stool.she needs intense care, saline, medicated bath n regular skin treatment…regular injections n meds are being given to her.bath will b given soon once her temp is normal.skin scrapping would be done if no improvement is found.she is kept isolated as isolated as it can spread to our other less immuned patients.
Has she been noticed earlier spot treatments would have done.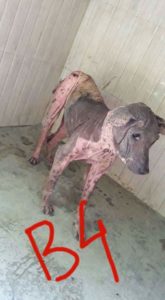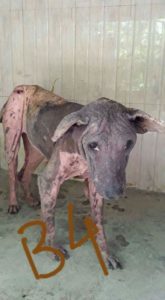 When The Dog was Rescued
#update1 : skin infection has reduced a lot.itching n blood oozing has stopped.maggot wounds hv healed up.dehydration is no more.also she is eating n drinking quite well.now the fur is growing slowly n we blv with the nurients vitamins n supplements she will soon get her real shape.
#update2 : luchi was given her secnd medicated bath today n she was as incooperative as she can be we had to tie her mouth n all…meds are going on too…improvement is very slow but surely she will turn to a beauty in the next 2mnths..
                        Medicated Bath
#update3 : luchi was given her 3rd medicated bath..fur has started growing..health has also developed..appetite has increased..love her..waiting to see her full transformation.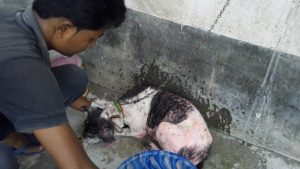 Contact ARC KOLKATA
—————————-
Address : 11/4, Jyotirmoy Nagar, Thakurpukur, Kolkata – 700 063.
Regd No : 160700034/2016
Email : arckolkata63@gmail.com
Call : (+91)7890-535353/838383
Web : www.arckolkata.org